Mission and Values
Christ Church Central was planted in October 2003 and we are a member church of the Anglican Mission in England. As such, our heritage is in Anglican evangelicalism. We are reformed, evangelical, protestant and Anglican. We aim to remain faithful to the ancient creeds (Apostles, Nicene and Athanasian), the Church of England's 39 Articles of Religion and the doctrines of the 1662 Book of Common Prayer.

One of the main features of this legacy is faithful Bible teaching, and it's the Bible that has shaped Christ Church Central's values: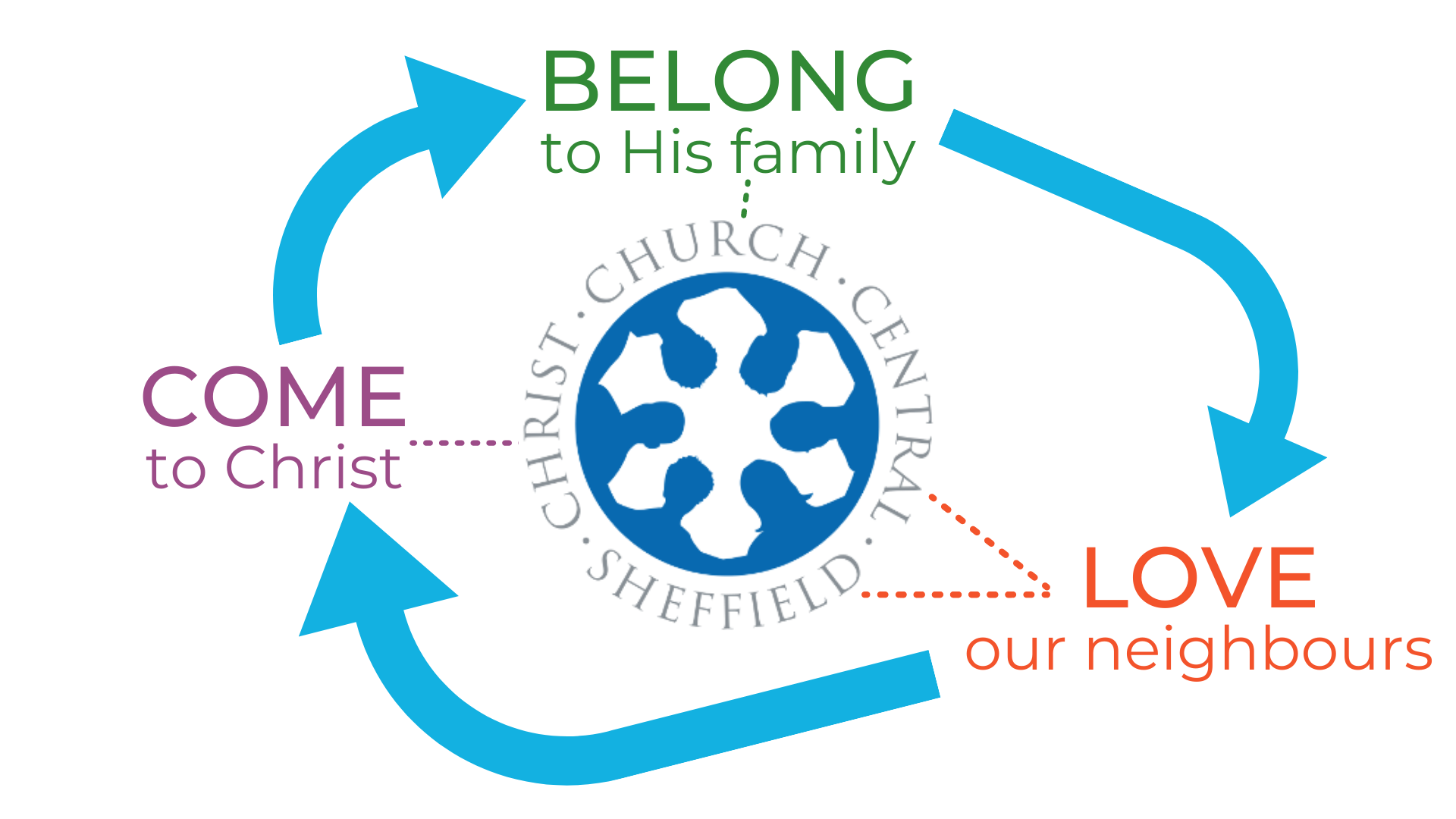 COME to Christ
This is about evangelism and discipleship. We invite the lost to find rest for their souls in Jesus and we invite Christians to keep coming to Jesus to listen, trust, worship and love him. The discipleship journey is cyclical rather than linear. Coming to Christ is both a one-off event – conversion and a day-by-day, week-by-week experience – discipleship.
BELONG to His Family
As we come to Christ we receive the Holy Spirit and are adopted into God's family. Belonging to God's household means being transformed into the likeness of our Lord, as we love, encourage, pray, serve, give and cultivate healthy spiritual friendships.
LOVE our neighbours
This is the second great commandment of the Bible and for us there are three main groups where we do this:
Sheffield city centre – those who live, work, study, and pass through the city centre.
Sheffield networks – those we live, work, study and connect with in our networks and neighbourhoods.
Beyond Sheffield - those to whom we send and support our mission partners along with the other churches in the Anglican Mission in England networks.
Our Mission
Our mission is to take the good news of the Lord Jesus Christ to people in Sheffield who don't yet know him – to be "a church for people who don't go to church." This simply means we try to do those things in a way that is accessible, relevant, welcoming and jargon-free. We also aim to be an authentic church – a spiritual family of people committed to Jesus and to one another. We therefore do lots of the things you might expect a church to do: meet together to study the Bible, pray and sing.
Our Vision
Every five years, we spend some dedicated time thinking and praying about what we want to be and do as a church family in the service of the Lord, of one another, and of our community. The result of this is our Resolve document, a five-year vision for Christ Church Central covering a broad range of topics. You can view a summary of Resolve 2020/25 here.
Our Partnerships
To help us in our work, we are partnered with a number of other organisations who share the same beliefs, mission and values. You can find out more about some of these below.
Safeguarding
Christ Church Central is committed to safeguarding and promoting the welfare of children young people and vulnerable adults. Our church expects its members, volunteers and staff to share a commitment to creating an environment where children, young people and the vulnerable feel safe and can thrive. All our staff and those who lead our youth and children's ministry are subject to a robust recruitment process including DBS checks.